Using patented image matching point resolution technology (Patent No. 4689758) for compositing, Super Resolution Synthesis processes based on a half pixel level, resulting in an end result equivalent to 1.5 or 2 times resolution. Because the end result results in a greater number of pixels, the result looks great, even if you print or trim your image.

Note This process is limited to images of no greater than 9,000 pixels height.
How to Use Super Resolution Synthesis
From the Adjustment section, select the images you want to combine. To select all images, hold down the [Ctrl] key and click on each image in succession. White frames appear on selected images.
After selecting all images, from the toolbar, click the Composite Selected Images Button. The Composite Selected Images dialog appears.
From the Composite method option, select Super resolution. Select the magnification option. The higher the output magnification, the higher the resolution. Select output options, then click the Composite button.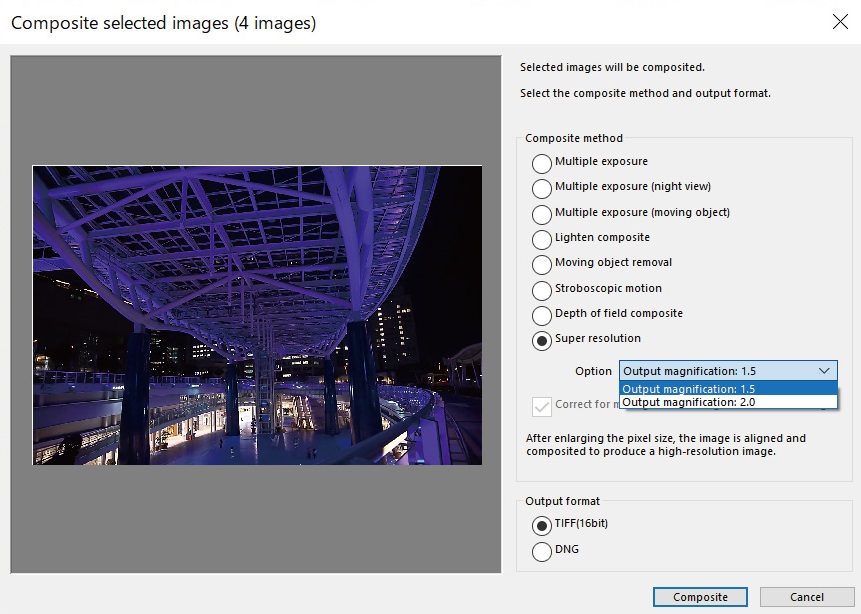 Before Super Resolution Synthesis

Super Resolution Synthesis Composite of 8 Images

After Super Resolution Synthesis
This feature is one of two compositing functions, bringing the total number of compositing actions up to 8.